Killed by a soda machine. Strangled to death by a walkman. The members of AC/DC (maybe) crashing off a drawbridge to their doom. This is just a small selection of the scenes that await the viewer of Maximum Overdrive, Stephen Kings only directorial effort. The general plot of the movie is this, inanimate objects come to life and kill their human owners. Toasters, lawn mowers, arcades games and of course, the humble semi truck. The movie features a variety of now classic rigs, here is a short list.
Mack Cruiseliner (at least seven!)
International Transtar
Brockway 400 Series C/O
Diamond Reo
White 9000
Autocar A64
The best part? The trucks are not static props in the background, they are used in nearly every scene to terrorize and at times kill their former human overlords. Click here for the listing of the diesel stars (with photos) from the movie. But of all the classic trucks from the movie perhaps none is more well known than the Western Star with the sinister green goblin on the grill.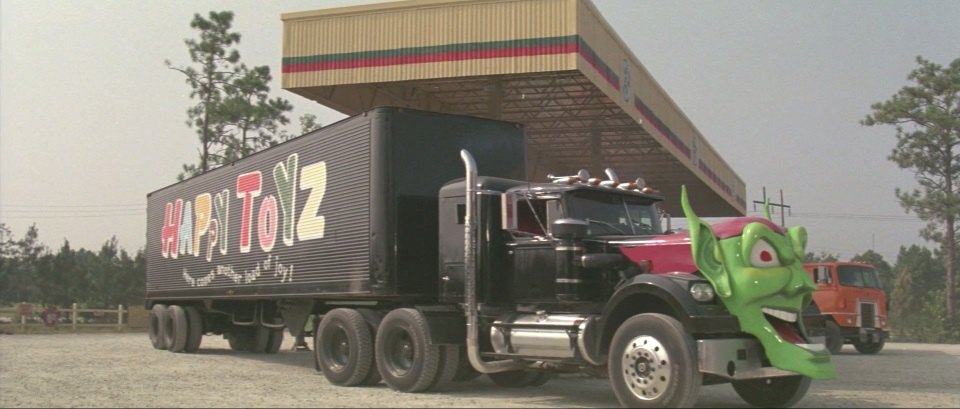 Now I will admit, I haven't seen this movie in a very, very, very, long time but when I saw this '77 White Western Star arriving at the ATHS Hudson Mohawk truck show I new exactly where I had seen it before.
Even without the goblin the look of this truck head-on is some what intimidating. *NOTE* This is not the actual truck from the movie, just a similar model.
Thankfully, this truck didn't become sentient while I was filming the video below.
Unless the machines rise up tonight expect more coverage of ATHS show from Ballston Spa tomorrow!