Here is a cool White 9000 spotted by Jason this past August. He tells us the truck was located at a vehicle auction in Fort Wayne and was gone the day after this picture was snapped. As the door shows this truck was at one point based in Groton, CT which makes sense considering that was the location of a large Hess terminal for many years. The setup on the back of the truck suggests it was used to move tanks around, possibly propane. Or maybe it was a yard tow truck. I think it's safe to assume it started life as a tractor pulling a tanker.
Now if this truck seems familiar don't be surprised. The 1972-43 Hess toy truck tanker was clearly inspired by the White 9000. If you're interested in this particular truck you can still but it for the reasonable sum of $679.95 from Jackie's Toy Store.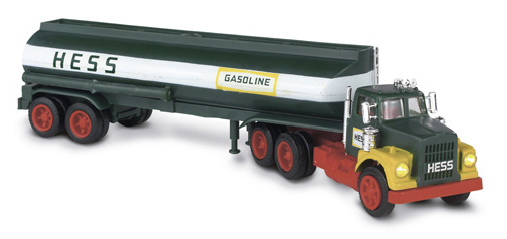 We don't know what became of the White after the auction concluded but I'm going to hope it went to a good owner who will preserve and safe keep this truck for future generations. I believe it will be at truck shows for years to come. The power of positive thinking! Thanks to Jason for sharing.